Fume Hood AR-01

(1200mm /1500mm /1800mm/2100mm)
The most common and basic unit fume hood available. It is packed with features, and sleekly designed for performance and convenience. Available in 4 sizes:120, 150, 180 and 2100x90x240 cm.
It is suitable for general lab application and can deal with various common acid and solvents. Highly affordable and suitable for heavy usage and demanding experiments (Except perchloric acid, hydrofluoric acid and radioisotope applications).
Arias Labs fume hoods have certain defining features that set them apart from others. Functionality and durability in mind, our fume hoods are designed for the harshest laboratory environment today.
In ARIAS, we have various configurations available to cater to your specific needs and application.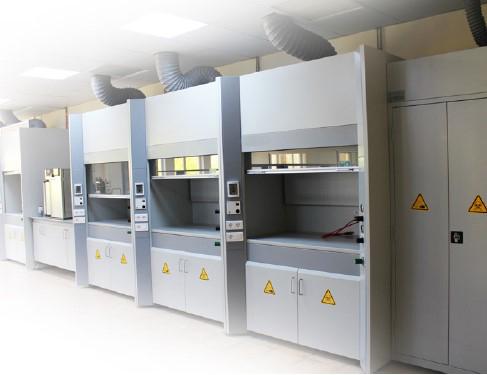 Fume Hood characteristics:
Fume Hood frames are made of corrosion-resistant galvanized sheet and painted with epoxy-based powder paint.

The interior of the Fume Hood work area (sides, rear and inner walls, ceiling) is chemical resistant.
The aerodynamic design of the Fume Hood prevents air turbulence.
The working surface can be ceramic worktop or acid, and chemical resistant compact laminate

.

An exhaust fan can be provided upon request (in case that there is no central exhaust in the building), it can be installed at the top of the fume hood cabinet as a silent fan with different capacities upon customer request: 1040 m3 / h for size 120cm, 1400 m3/h for size 150cm and 2350 m3/h for size 180cm.
There are 4 of 220 V sockets on the front panel of Fume Hood, could be European 2 pin or UK 3 pin, according to destination market standard.
Fume Hood manual control panel can be used to turn on and off the motor, adjust the speed, turn on and off the fluorescent lamp, and control the operation.
Airflow sensor and alarm are available on Fume Hood AR03 EN14175 Standard.
Fume Hood the windshield is 6 mm thick guillotine glass and it is placed in an aluminium frame to provide easy and quiet operation thanks to the roller bearings.
Fume Hood has 4 taps that can be controlled from the front. There is 1 cup sink in 30x15 scale in Fume Hood.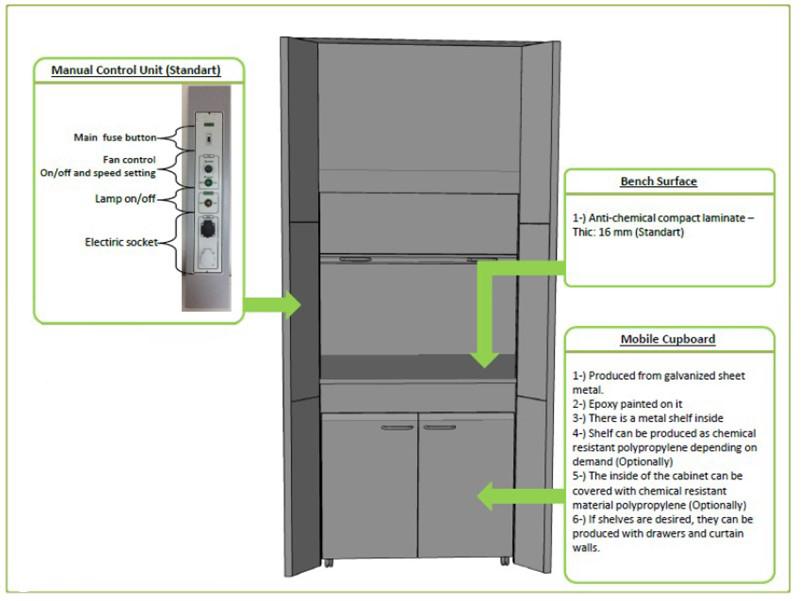 Electricity Sockets (British socket)

Voltage

220V AC

230V AC

OUTPUT

2P+E

13A
(Optional fan if required) Electricity Fan exhaust

Voltage

230V AC

Power frequency

50-60Hz

INPUT

1PH AC 230V

OUTPUT

3PH AC

0-INPUT V

2.5A

0.4Kw